Grab our most popular Nutsack
Maybe it's the crunchy almonds, cashews, pecans, hazelnuts and brazil nuts. Maybe it's the healthy Coconut Oil and French sea salt. All we know is people can't keep these out of their mouths, and neither will you.
Premium Mix - Roasted Nuts
Elevate your snacking experience!
This freshly roasted premium nut mix delivers a punch of flavors and provides essential nutrients for a vibrant, healthy lifestyle. It might even make you laugh.
Cutting Carbs? Grab a Keto Friendly Nutsack
Our keto friendly nut mix contains walnuts, pecans, almonds and pistachios. It's the perfect snack to munch on whether you're following a keto diet or not.
Keto Mix - Roasted Nuts
Boost your energy and nourish your body with our keto nut mix!
Whether you're recovering from a strenuous workout, battling midday fatigue, or in need of a handy snack, this keto-friendly Nutsack is your go-to power-boosting companion.
We're serious about roasted nuts
Most packaged nuts are roasted with cheap oil and basic table salt, months before they get to your mouth, but not Nutsack Nuts. Our nuts are special.
We roast our nuts in small batches using only 100% pure coconut oil and salt them with the finest French sea salt to give our nuts the perfect flavor and crunch.
Also, no one likes stale nuts; that's gross! That's why our nuts are roasted to order every week, so we can them in your mouth within days of being roasted.
We do all this to ensure you always get the freshest, healthiest nuts available.
Get Fresh - with a Naked Mix
Love your nuts clean and simple? We've got just the thing for you... we call it Naked Mix.
Naked Mix - Roasted Nuts
Enjoy your nuts in the buff.
This mouthwatering nut mix contains cashews, pecans, almonds, pumpkin seeds, coconut oil and sea salt. That's all. Grab a Naked Mix and keep it simple.
Join our fight against cancer
No one should ever lose a loved one to cancer, and the only way to make that happen is through research.
Nutsack Nuts is proud to donate a portion of every sale to The Damon Runyon Cancer Research Foundation.
It may seem a little nutty, but with your help, we can make a difference.
Why are Nutsacks so popular?
Great question! We're not 100% sure, but we start with whole, fresh nuts, roast them with healthy coconut oil and sea salt, then put them in memorable paper sacks we call NUTSACKS that people LOVE to share. So it could be that.
We've been asked "How drunk were you when you came up with the name?" more times than we can remember. FUN FACT: Not drunk at all. It's a sack, full of nuts. It was a no-brainer.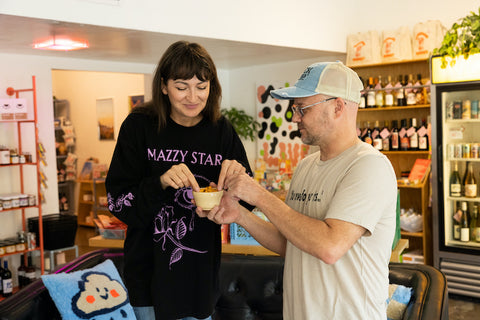 Nutsacks add a sprinkle of joy and a dash of laughter to any gathering because they're fun, tasty and conversation-starting. Seriously, who doesn't love a handful of fresh nuts?
NEW!
Build Your Own Bundle
Save 10~20% when you grab 3, 5, or 7 Nutsacks!
Any size. Any combination. No code.
Meet the Nut Boss
Hey, I'm Bill, Owner & Chief Executive Nut at Nutsack Nuts – the seriously fun roasted nut company that packs health and happiness into every sack.
Fans of fresh, flavorful, healthy snacks love grabbing my nuts and popping them in their mouths.
If you're a Nutsack Nut, or know someone who is, grab a sack today and find out why...
"You never forget your first Nutsack"
BTW... I toss a Mini Nutsack into every order, for FREE! Hand it to a friend or horde it all to yourself. I won't judge.
Grab a Nutsack at a Retail Partner
We've partnered with specialty markets, boutique hotels, coffee shops, wine bars, tap rooms, airports, golf courses and more so you can "Grab a Nutsack" in person, whenever the urge hits you.
View the Directory
Oh, we're socially nuts, too!
If you haven't figured it out yet, we like to have fun, especially on Instagram – Join us!