Happy Holidays, Nuts
Nutsack Nuts make the perfect gift for everyone on your holiday shopping list.
Roasted fresh every week using only pure coconut oil & French sea salt. No vegetable or seed oils.
Delicious Gift Ideas
This year, gift everyone on your (naughty or nice) list with an unforgettable
Nutsack.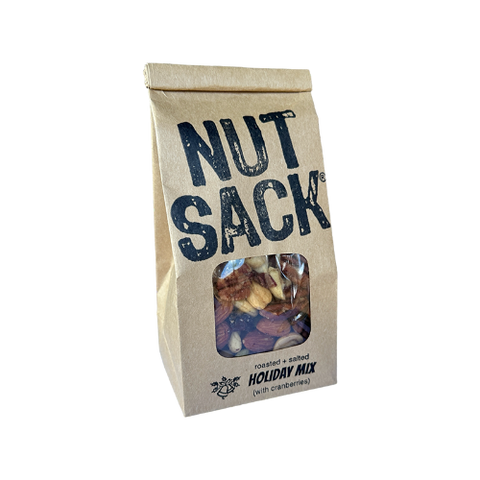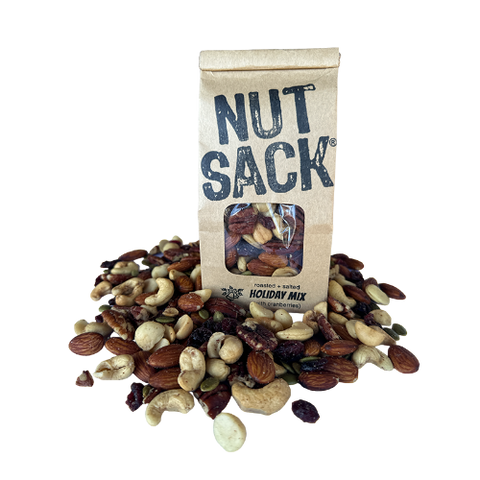 We're serious about roasting nuts
No one should ever put stale nuts in their mouth; that's gross!
That's why we roast our nuts to order every week. You'll have them in your mouth within days of being roasted.
By using 100% pure coconut oil and the finest French sea salt available, we guarantee your nuts will arrive fresh, crunchy and delicious.
Cutting Carbs? Grab a Keto Friendly Nutsack
Our keto nut mix is the perfect snack to munch on whether you're following a keto diet or not.
Join our fight against cancer
No one should ever lose a loved one to cancer, believe us, we know. We believe that one way to make that happen is with health, humor, and research.
So in addition to providing a little humor mixed with a healthy snack, Nutsack Nuts is proud to donate a portion of every sale to The Damon Runyon Cancer Research Foundation.
It may seem a little nutty, but together, we can kick cancer's ass.
Get Fresh, with Naked Mix
Love your nuts clean and simple? We've got just the thing for you... we call it Naked Mix.
Grab a sack at a Retail Partner
We've partnered with specialty markets, boutique hotels, coffee shops, wine bars, tap rooms, airports, golf courses and more, so you can "Grab a sack" whenever the urge hits you.
View the Directory
Oh, we're socially nuts, too!
If you haven't figured it out yet, we like to have fun, especially on Instagram – Join us!