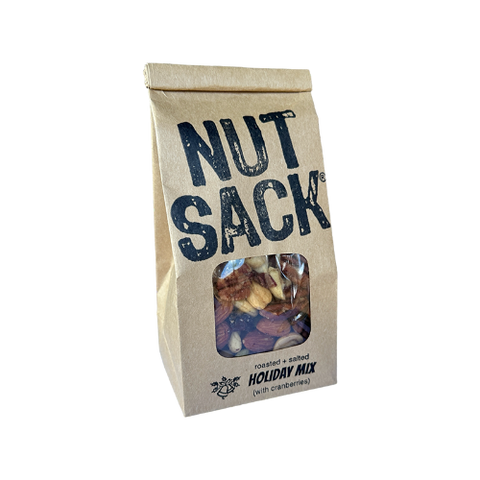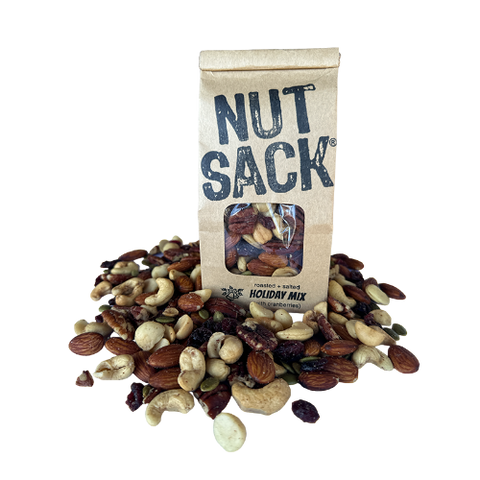 Holiday Mix
With Macadamia Nuts and Dried Cranberries!
Celebrate the Season with Holiday Mix!
Create truly unforgettable memories this year by gifting everyone on your list a sweet and crunchy Holiday Mix Nutsack.
Share the joy of health & happiness in a sack with our meticulously curated blend of almonds, cashews, pecans, macadamia nuts, pumpkin seeds, and dried cranberries.
Each handful is a festive celebration for the senses and provides the perfect blend of crunchiness, sweetness, and joyiness. (Yes, we made that word up!)
NOTE: This limited edition mix will be available while supplies last. Each Nutsack contains 8 ounces of our ultra-fresh roasted nuts mixed with a handful of dried, sweetened cranberries. We use 100% pure coconut oil and French sea salt during the nut roasting process.
Allergy Information: We don't roast or sell peanuts, but we do roast our nuts in a facility that sometimes processes peanuts and other tree nuts.
Nutritional Label
This is the label for our 6 ounce Nutsack.
Seriously Good Nuts
Don't let the name fool you. Every Nutsack is loaded with our freshly roasted nuts.
The Nutsack Promise
We stand by the quality of our product. If you're not 100% satisfied after tasting our nuts, we'll refund your money.